RIVER PROFILE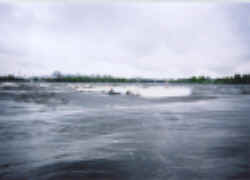 "Desert Wave" (Remic Rapids) is located in downtown Ottawa River accross from Tuney's Pasture at Remic Rapids. It is usually accessed by paddling down river from "The Wall" at Champlain Bridge. The wave is located a little right of the centre of the river. You will see it coming as you approach from above. There are not eddies, so hit it on the first (and only attempt).
Since it is located in the middle of the river with no eddies, I have no picture. If you have a picture, please send it along and I will post it and give the appropriate credits.
The wave is big and glassy, with pile on the top (depending on the level). The higher the water level, the bigger the wave. It will hold 2 or 3 paddlers easily, but when you get blown off, you're gone! At low levels, you can attain up river right and fall back onto the wave again, but this is a time and energy consuming exercise.