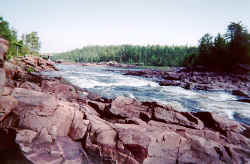 RIVER PROFILE

"Coliseum" is the third last rapid on the Main Channel of the Ottawa River.
Directly before Dog's Leg, Coliseum is largest rapid on the Main Channel at high water levels. I have seen a large commercial raft with the stern clear of the trough before the bow reaches the crest of the wave. It is BIG. The photo above does not do the rapid justice as the wave is all but non existent at this water level.
At lower water levels (as in the photo above) the rapid starts off with a nice clean tongue. There is an eddy on river left about half way down the rapid. It is an incredibly powerful eddy that quickly and forcefully draws you to the top. It's eddyline is very wide and extremely unstable. The eddy provides you very little opportunity to rest. There are a couple of holes present in the later half of the rapid. The larger on is a little right of centre followed by another a bit down stream and river left.