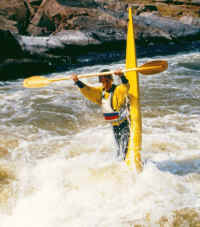 RIVER PROFILE

"Dog's Leg" is the second last rapid on the Main Channel of the Ottawa River.
Directly following Coliseum, Dog's Leg is the middle route throught this section of the river located between two staggered rock piles. You enter river right of the left most rock pile lining up with the far right side of the current as the river takes a hard left inside the river right rock pile. Boat angle is adjusted to face river left. You cannot be too far right here. There is a smallish ledge hole across the entire span.
This section can also be run via the small wave trains located between the rock pile and shore on either side of the river.